HomeTree Digital is thrilled to unveil the launch of AVA! AVA, which stands for Advanced Video Analytics, is a cutting-edge platform that empowers you to transform your data into captivating animated art with just four simple steps. Experience the convenience of creating personalized data visualization video content that truly captivates your audience like never before.
Whether you're looking to share insights with colleagues, present findings to clients, or simply tell a story with your data, our tool makes it easy and intuitive to create beautiful visualizations. With customizable templates, charts, and graphs, you'll be able to transform even the most complex data into a compelling narrative.
Benefits of Data Visualization Videos
In today's fast-paced digital landscape, data is king. Every business, regardless of its size or industry, grapples with mountains of data pouring in from various sources. But here's the catch: raw data alone is overwhelming and difficult to decipher.
When done correctly, data visualization helps your audience digest complex data more easily through the use of charts or graphs. It helps identify trends that numbers alone can't easily reveal and enables you to discover hidden patterns, allowing you to effectively convey the story you intend to tell.
As a financial marketer, visual storytelling to communicate data is a given. However, traditionally, it has been a time-consuming, expensive, and challenging process to create the desired visuals. While powerful Business Intelligence (BI) tools, such as Power BI and Tableau set the stage for internal reporting, these tend to be less suited for external audiences in which you want to grab their attention immediately. Imagine a self-service data visualization video platform that empowers businesses to create stunning video content in just a few simple steps. This is now a reality with AVA, allowing you to have your data takes center stage and tell a compelling story that resonates with your audience like never before.
Industries and Sectors that Can Benefit from AVA
The Advanced Video Analytics platform is a versatile tool that offers immense value to a wide range of industries and sectors. While its functionalities are tailored for the financial services sector, AVA's benefits extend far beyond that realm.
Let's take a look at some examples:
Asset Manager displaying investing style performance over time, for example how Quality Growth's performance compared to the Index over the last 20 years.
As a Wealth Manager, demonstrate market trends with your clients by highlighting areas of growth or potential risk.
As a digital marketer, showing the email open and click rate over time to better depict a trend.
If you're all about sports, consider showing top scorers during the season, showcasing the tight race between competitors, and highlighting how competitors overtook each other as the season progressed. Make it more dramatic by pairing it with background audio.
Present patient demographics and health trends. Visualize data, such as age groups, geographic locations, and medical conditions, to show service gaps and build trust with potential patients.
As a realtor, show housing prices trends to convince your client of a pricing change or justify the price tag to a buyer.
Has your University's post-education employment rate improved over the last 10 years. Create an engaging video to emphasize this accomplishment.
E-commerce businesses now have the means to visualize sales data, customer journey analytics, and product performance metrics, allowing them to make data-driven decisions that improve conversions and drive revenue.
These are just a few examples of the industries and sectors that can benefit from the tool. However, AVA's flexibility and user-friendly interface make it adaptable to various other fields where data visualization is crucial for effective communication and decision-making.
Step 1: Choosing Your Template
Ready to get started on your data visualization video? The first step is for you to think about and select the chart that will best tell your data story.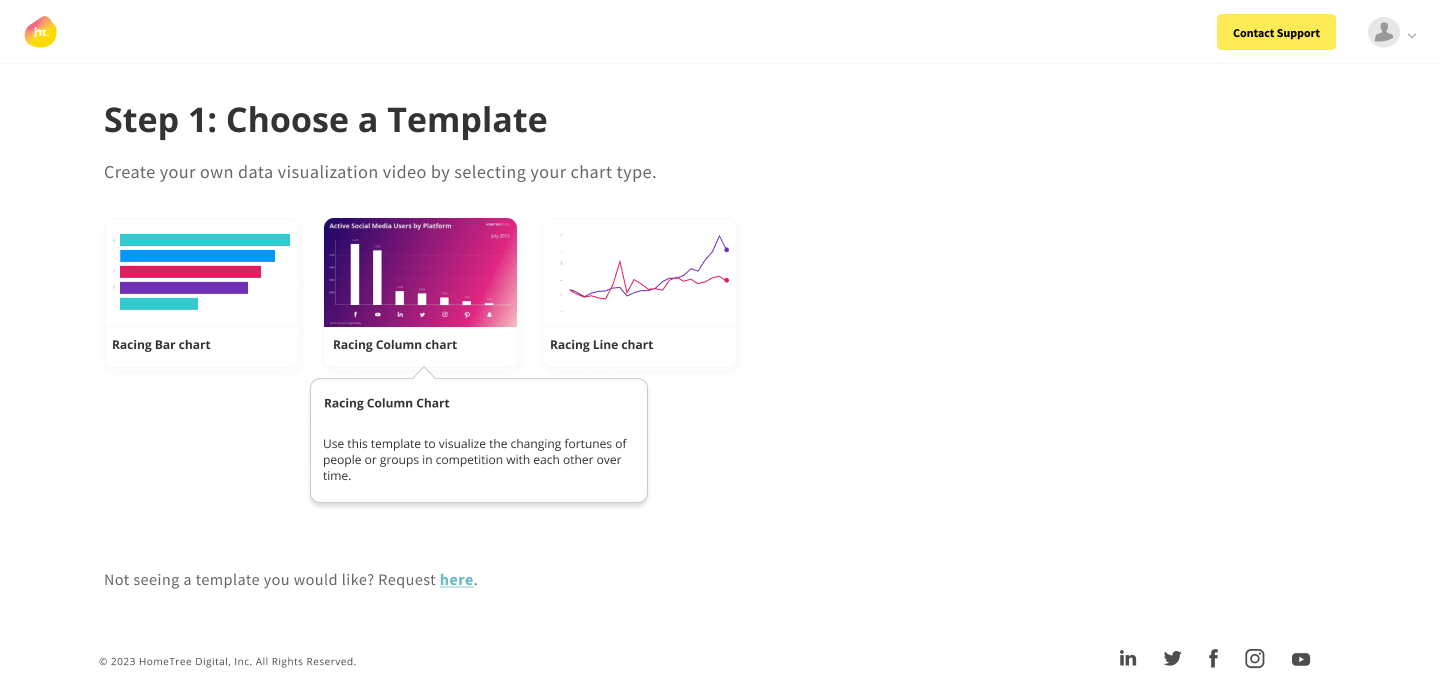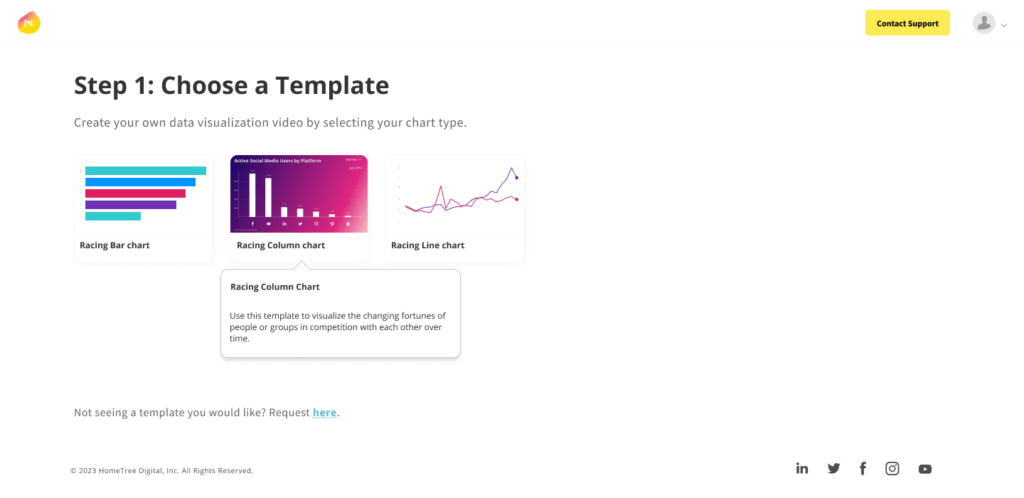 Hover over your options see a preview of the type of video you will be creating, along with a description.
Racing Bar chart
Visualize the changing size and order of your competing data points over time with a horizontal bar chart layout.
Racing Column chart
Visualize the changing size and order of your competing data points over time with a vertical column chart layout.
Racing Line chart
Visualize the changing size and order of your competing data points over time with a horizontal line chart layout.
Not seeing a template, you would like to see? Make a template request.
Click Next when ready to move onto the following step.
Step 2: Branding
Once you've selected your template, you're ready to start personalizing your video to match your branding.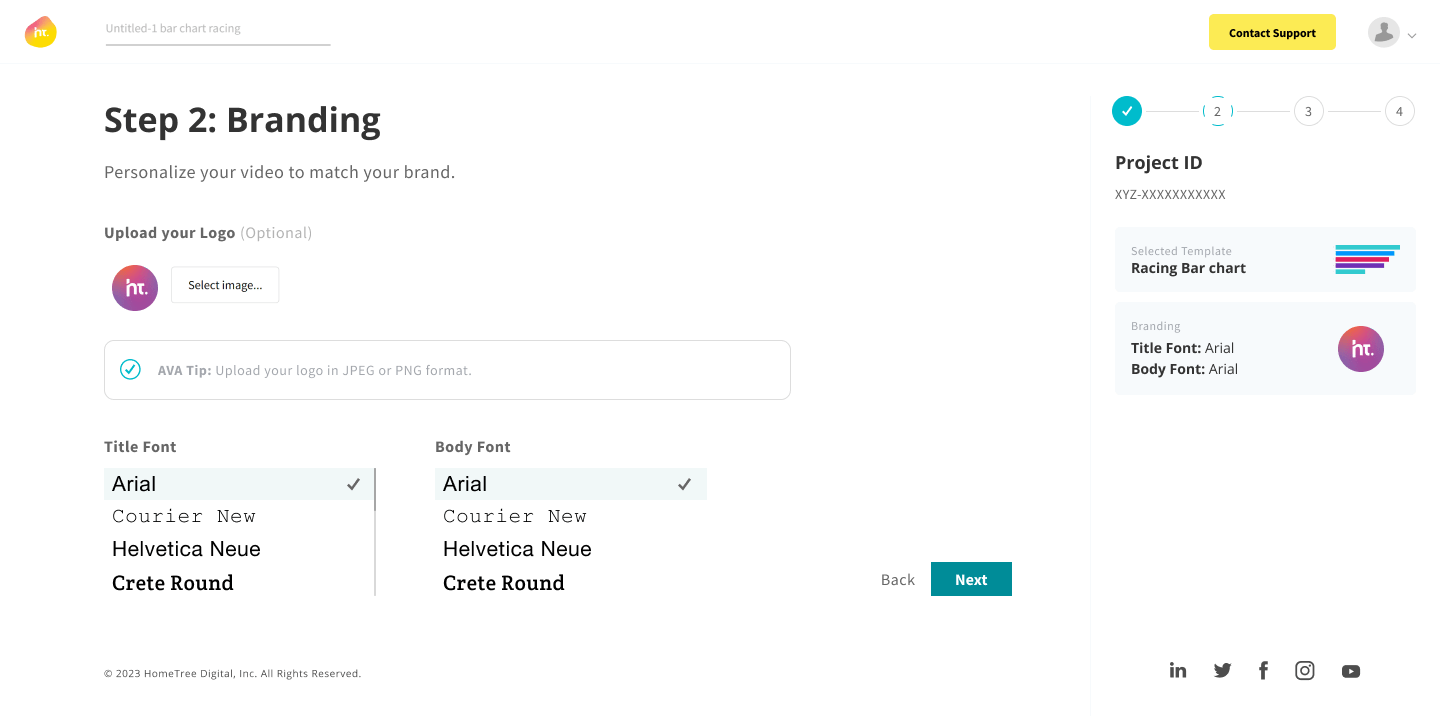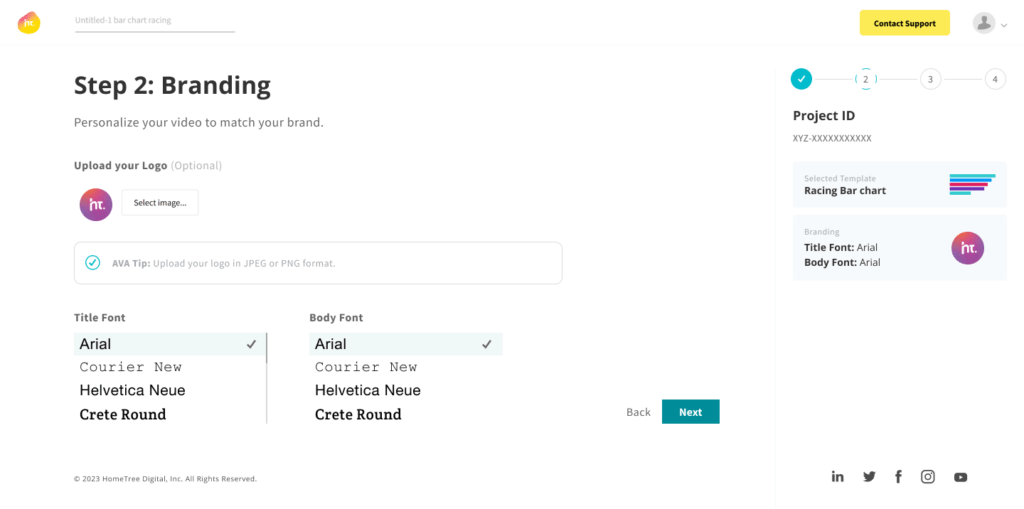 First, type in a Title for your chart on the top left of your screen. Step 2 then prompts you to upload your company logo (recommend in JPEG or PNG format for After Effects) and select one of many Google Fonts available to personalize your video.
AVA Tip:
If you have a specific Font you would like to use, please Contact Support referencing your username/email so we can make it available for you.
Importantly, please note your sidebar to the right shows you which step you are on, allowing you to jump back and forward between specific steps to make edits. Or make edits on the fly in the sidebar.
Your Project ID is unique and can be referenced if you go back to the project.
Click Next when ready to move onto the following step.
Step 3: Set Chart Attributes
In this step, you define your chart's data sets. For example:
Title (1): Quality Growth
Title (2): MSCI ACWI Index
Title (3): Excess Returns
The data sets entered in this section will help generate your base data file in the next section, so you can easily upload your data against it.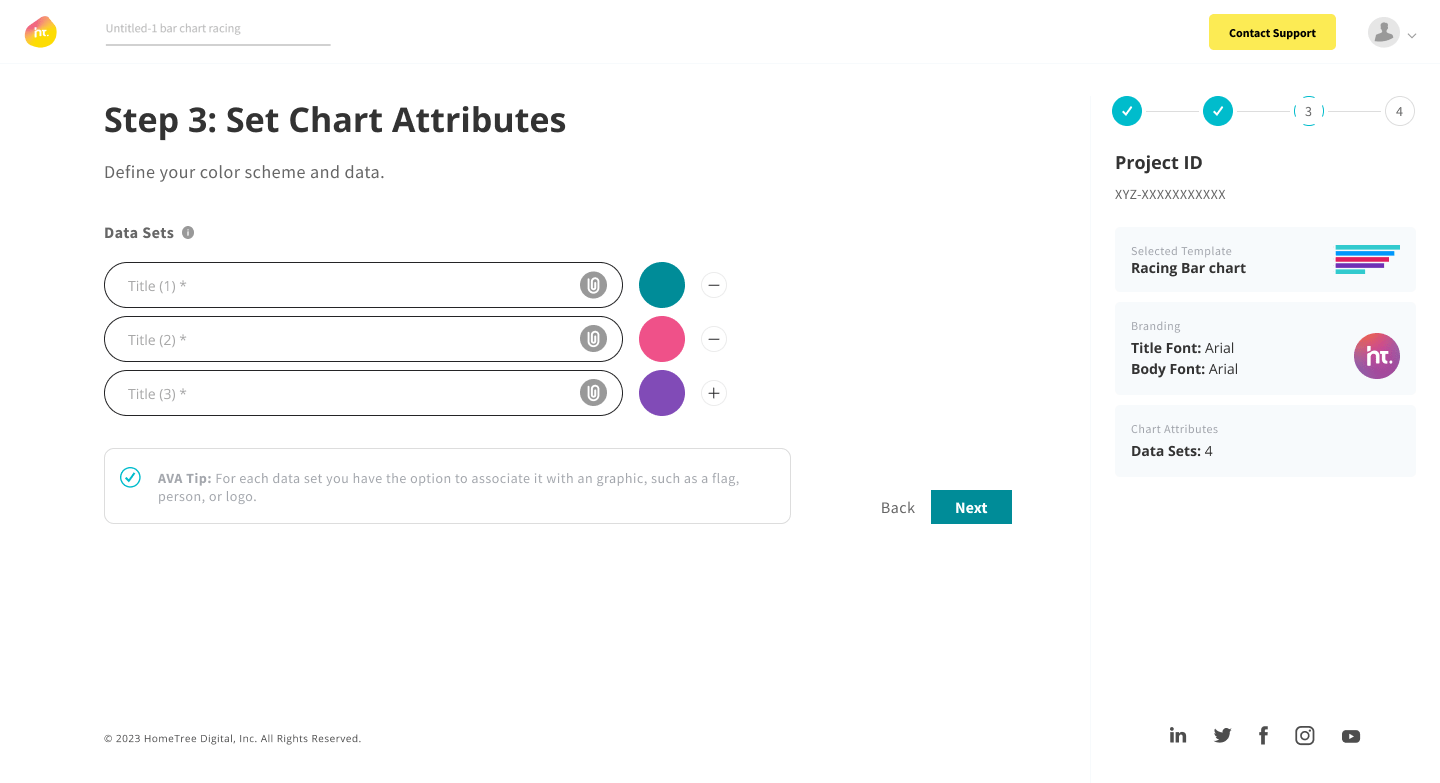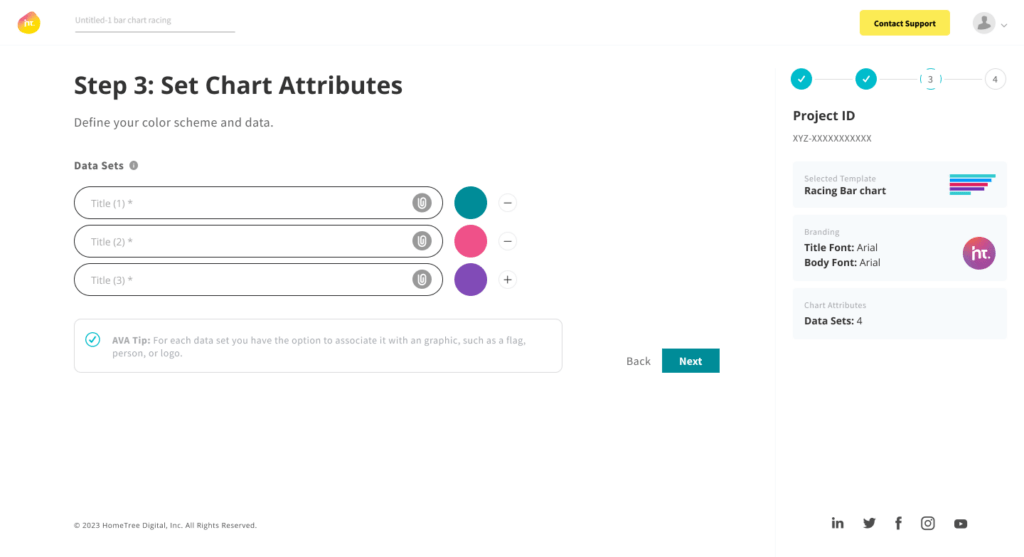 Each Data Set you insert will default to a unique color. You have the ability to customize them to your brand colors and click on the paperclip icon to associate the data set to a graphic.
AVA Tip:
If you are showcasing competing countries, why not insert a country flag to add a bit of life to your chart. You will be able to tweak the positioning in the next step.
We have not restricted the amount of data sets you can add, just keep in mind that the more you add the longer it may take to generate your video.
Click Next when ready to move onto the final step.
Step 4: Customize & Finalize
In this final step, you will be prompted with three core tabs on the left screen and a multitude of settings within your sidebar.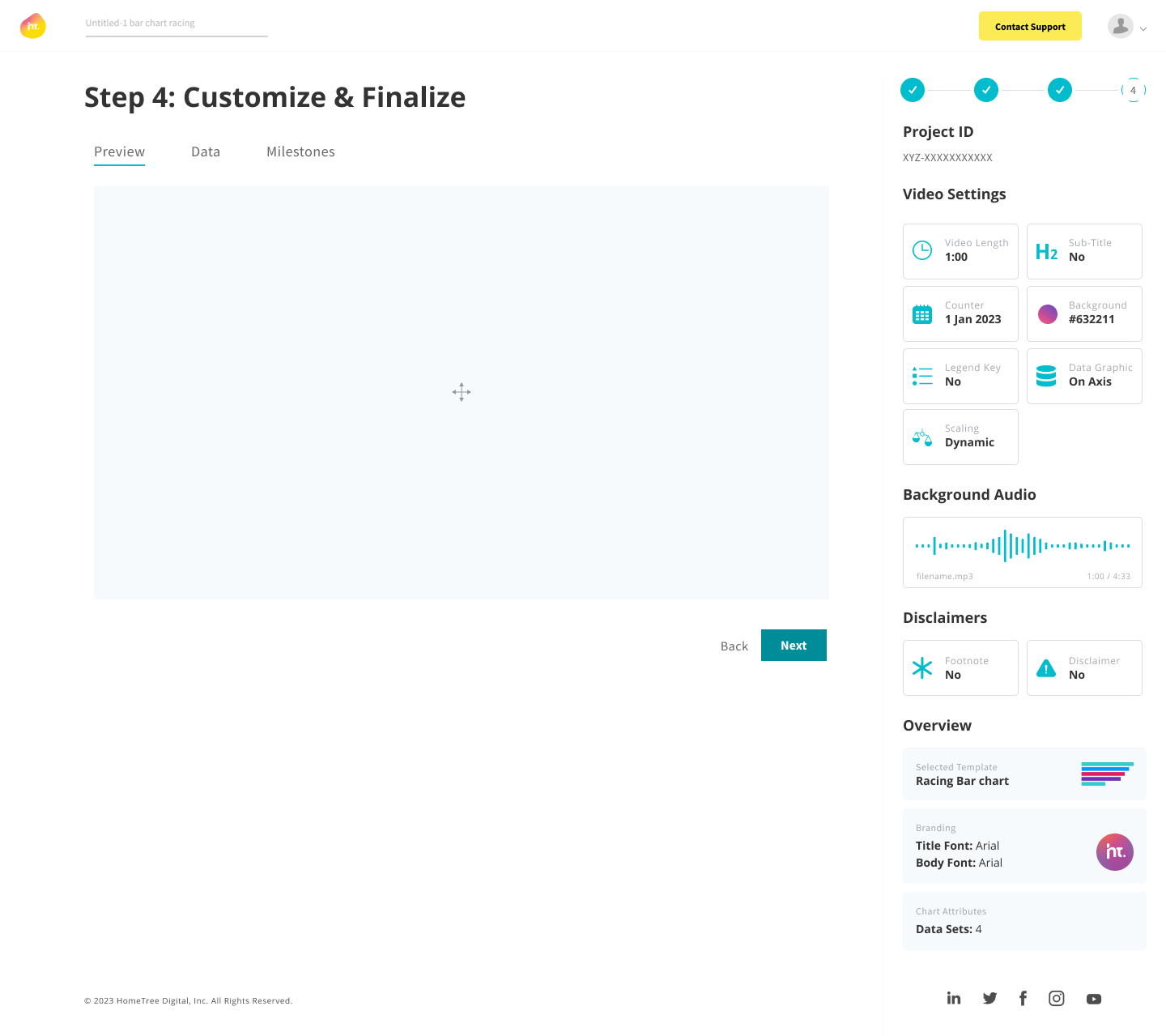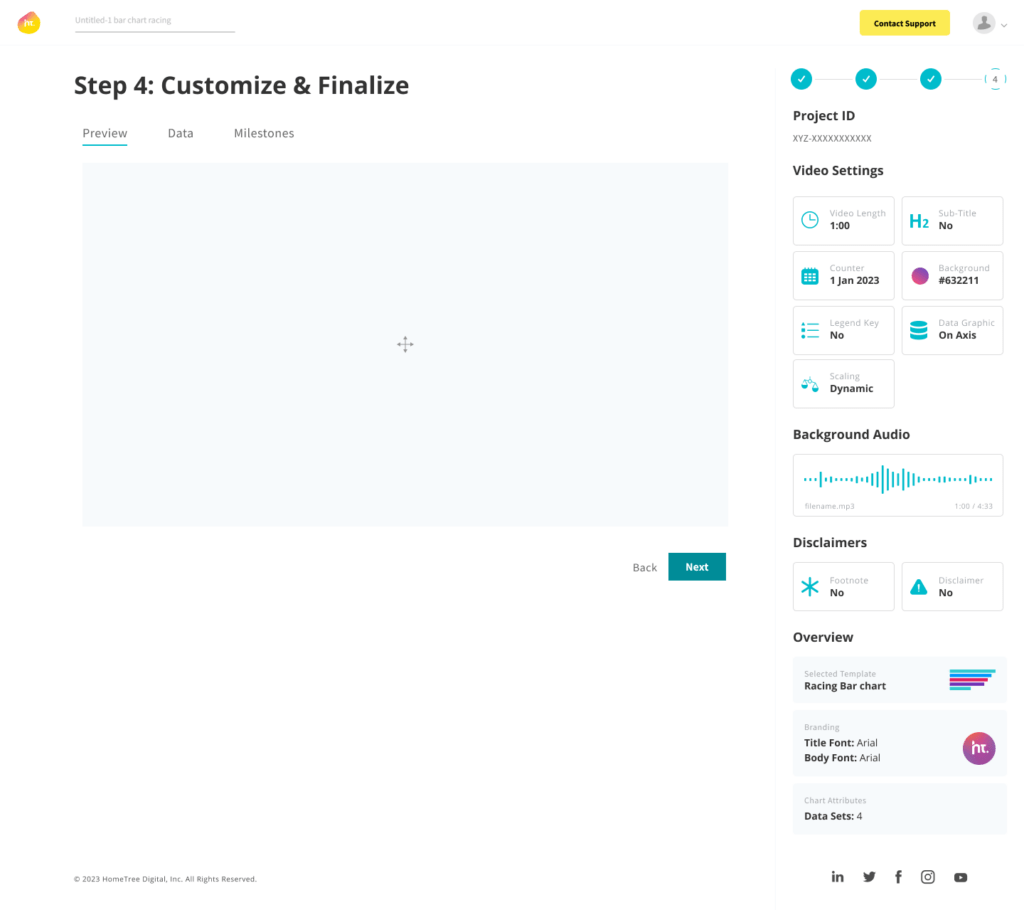 Under the Preview tab you can reposition various elements within your chart. This includes—but is not limited to—your logo, title, sub-title, disclosure, chronological counter, and milestones.
The Data tab is generated from your predefined data set from Step 3. You can always go back and make corrections if you missed anything.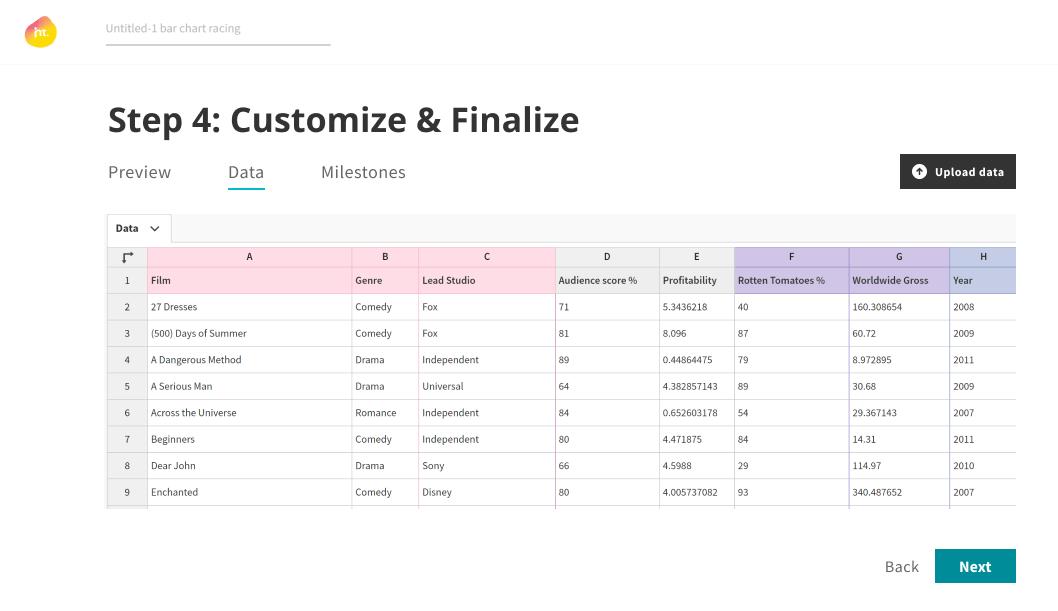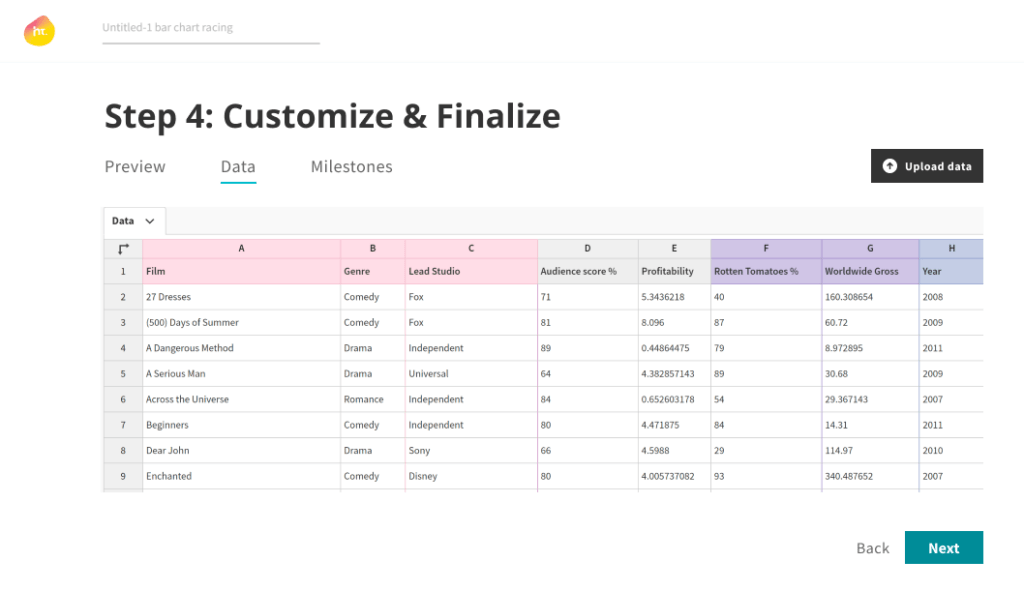 This is an online version of Microsoft Excel, or similar to Google Sheets.
Copy and paste your data into the spread sheet or select the 'Upload data' button on the top right to import your CSV data file.
The Milestones tab allows you to highlight key events and dates in your timeline. This section is optional.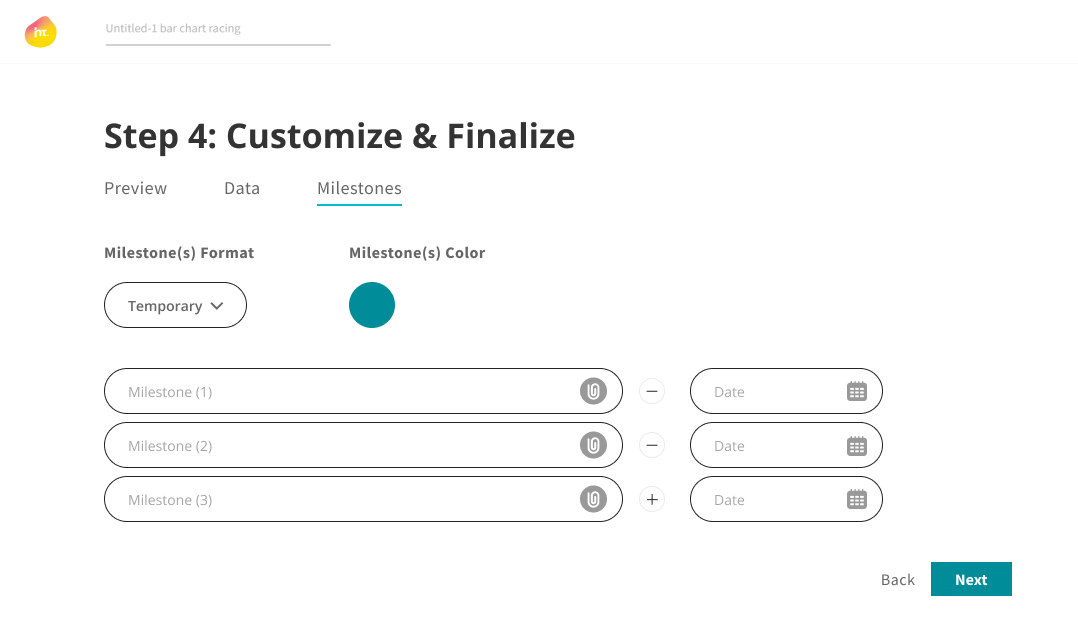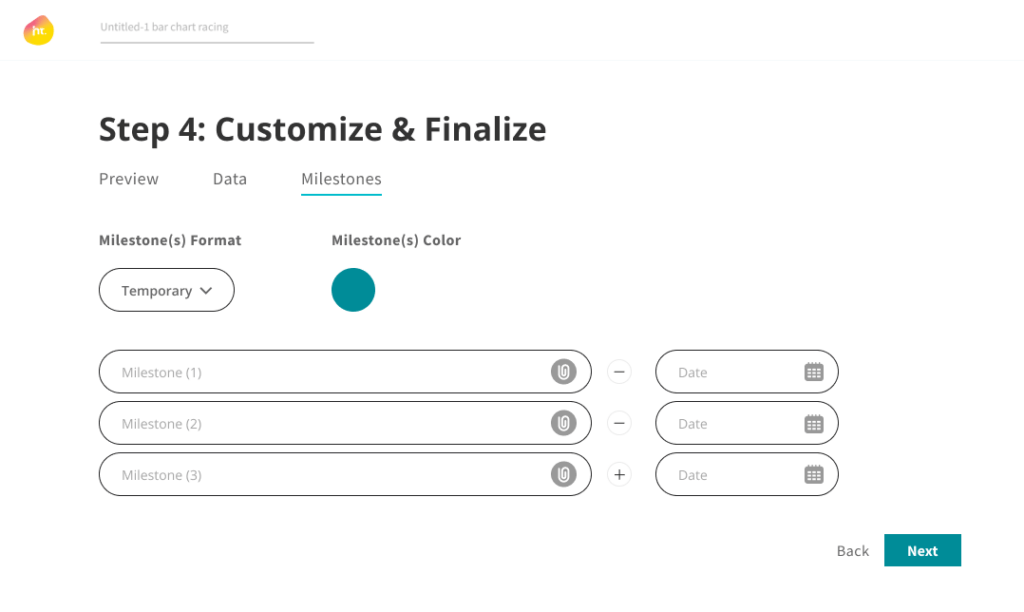 Firstly, you have the option to have your milestones display either 'Temporarily' (and then disappear as your chart progresses) or 'Permanently', under the Milestone(s) Format.
You can then select a unique color for your milestones to stand out under Milestone(s) Color.
In the subsequent section, you write out the copy for each of your Milestones, associate them with a graphic, and define at which timeframe they should display on your chart.
When making any changes, we always recommend going back to the preview tab to view and validate the changes are reflected as expected. This is especially important when adding any milestones, so that you can ensure they are positioned correctly around your data.
Equally crucial are the Video Setting, Background Audio, and Disclaimer, sections of your sidebar.
As mentioned previously, your sidebar section throughout the AVA application is fully editable at any point.


Video Length: Your video length dictates the tempo of your video. If you are showing a lengthy date range, you will want to add time, so it doesn't feel as rushed and the content is digestible to your audience. By default, this will be set to 1:00 minute.
Counter: The chronological counter shows your audience the exact date they are currently viewing data for. This adds life to your chart so they can actively see the progress. With a variety of options you can select from, below is a list of outputs you can have on your chart.

December 01, 2025
01 December, 2025
1 December 2025
Dec 01, 2025
01 Dec 2025
1 Dec 2025
December 2025
Dec 2025
12/01/2025
01/12/2025
2025
No Date Counter

Background: Allows you to select a background color. You have the option to pick from a solid color, linear gradient, or radial gradient.
Data Set: Allows you to define the positioning of the graphic of your data set (e.g., country flags). This option is only available for the Bar and Column chart templates. Options:

On Axis
Inside End
Outside End

Legend Key: Allows you to toggle on and off a Legend Key (terminology taken from Microsoft as the words are used interchangeably) for your chart. This option is only available for the Line chart template.
Scaling: By default, the y-axis and x-axis of your charts will dynamically change over time. If you prefer to keep them static, please disable this feature here.
Background Audio: Select a background audio that matches your chart and adds depth to your presentation. Once you've selected or uploaded a background audio you will have the option to select the segment of that audio you would like to play on your video. This feature will be expanded (in the future) to include integrations to audio platforms and tools.
Footnote: Add a footnote disclosure to the bottom of your frame.
Disclaimer: Add an end frame disclaimer at the end of your video to keep compliance happy.
AVA Tip:
When choosing your video length consider the medium you will be posting it on. For example, if you're posting on social media the ideal length is approx. 30-60 seconds if the content allows for it.
Click Next when you are happy with your selections and ready to generate your video. You will be prompted with an "Are you sure?" message to make sure you have made all the customizations required for the video before proceeding.
All Set!
You have completed the steps required to generate your data visualization video. How did you find them?
Select your Output Format, enter the email addresses you would like to have them sent to and you're all set. You can expect your video to be ready within 24 hours (in most cases, in less than 30 minutes).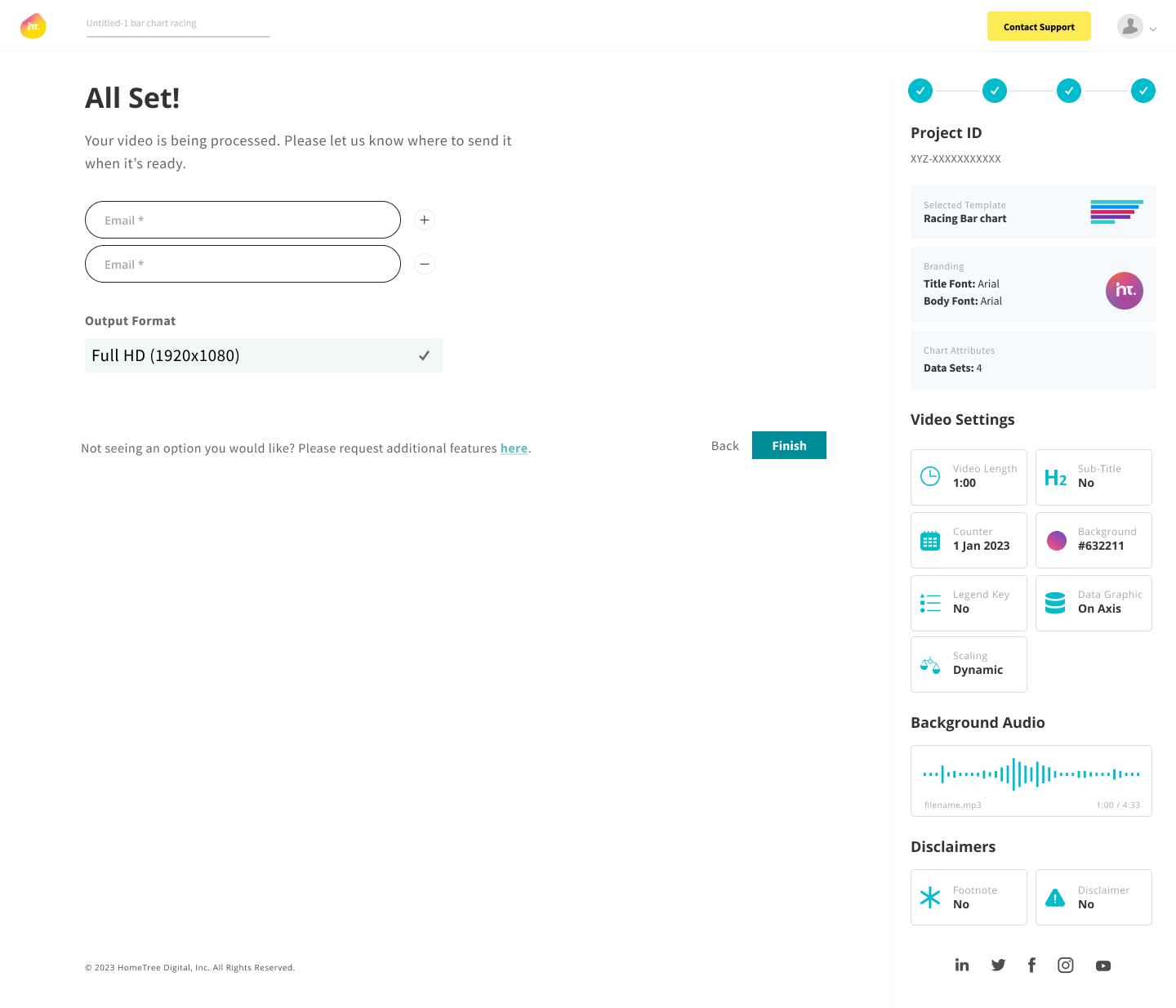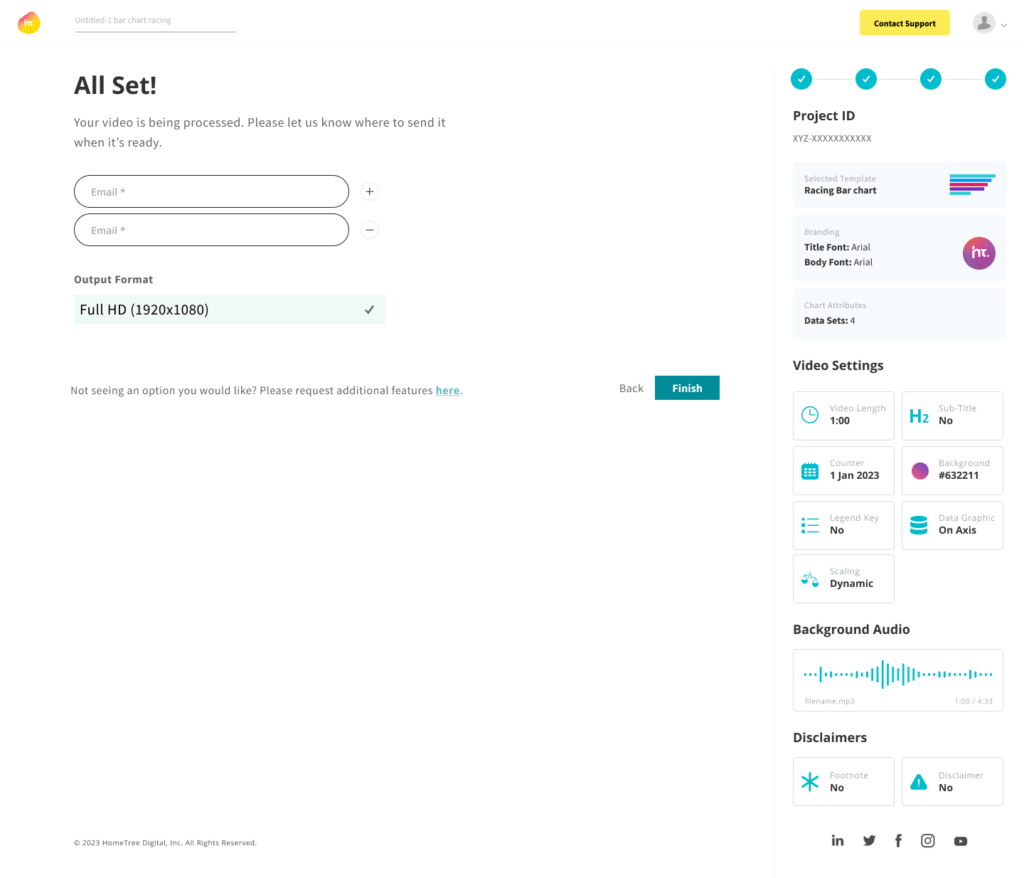 Review your video settings one last time and click Finish when ready.
You will receive two emails, one with confirmation that your data visualization video is being generated, and a second one stating that your video is ready and a link to download it.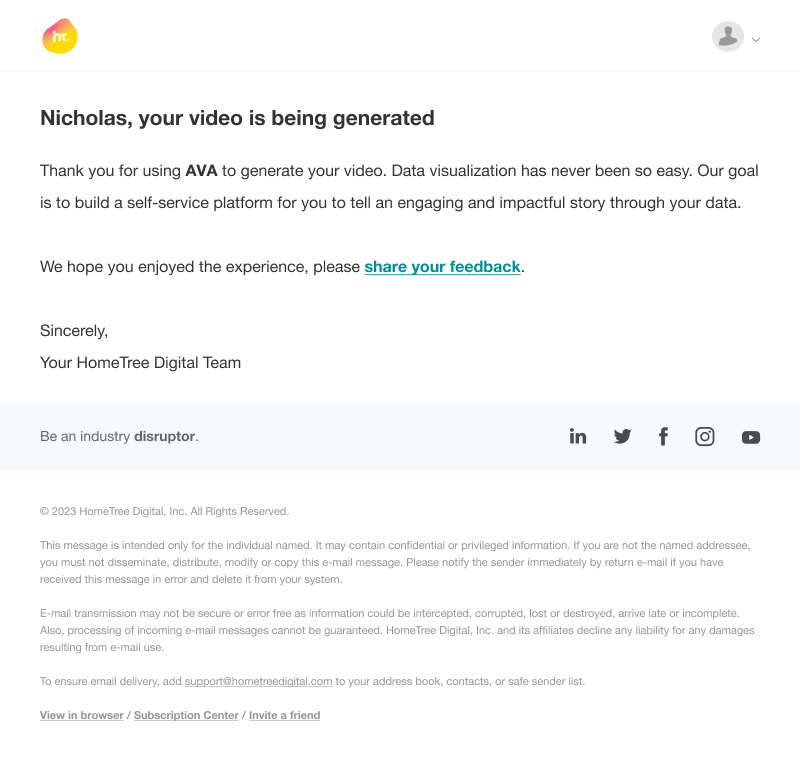 Under the User Menu (top right) > Account Dashboard you are provided with a historical view of all the chart templates you have either completed or that are still in draft.
Conclusion
In conclusion, the AVA platform empowers businesses to transform data into captivating videos with ease. Its user-friendly interface and self-service capabilities make it simple for users to create professional video content in just a few steps. By leveraging AVA's features and benefits, businesses can unlock the full potential of their data and engage their audience effectively.
As we continue to evolve AVA, we are excited to introduce more advanced tools for our users. For instance, AI-powered recommendations will provide suggestions on milestones, color matching, and other enhancements to enhance your videos.
The public launch of AVA is scheduled for the summer of 2023, following a successful BETA phase with a select group. To express your interest in participating in the BETA, please reach out to us. Don't miss the opportunity to be a part of HomeTree Digital's innovative data visualization platform.
About HomeTree Digital
HomeTree Digital is a full-service digital marketing agency for financial services. We specialize in branding & creative, videography, web & mobile development, integrations & automations, email marketing, organic & paid social media marketing, SEO, distribution, reporting & analytics, and tying it together through strategy. Reach out to us today for more information on how we can help you.
HomeTree is defined as a wise resourceful home that provides knowledge, instills inspiration, encourages creativity, and protects whilst harmoniously connecting its residents through its branches and roots to the outer world. This accurately describes the approach we take when it comes to our clients—we believe in excellent customer service and prioritizing you, whilst providing you with the know-how for you to succeed in this rapidly evolving digital world.