Email Deliverability is often an overlooked aspect of Email Marketing. As a financial marketer your focus tends to lean towards design, layout, responsive coding, and content—all just as important in their own respect. Ask yourself though: What good is impeccable content and impactful creative if it never reaches my audience?
In this guide we cover getting started with a distribution list, techniques to successfully reach your contact's inbox, and ways to better connect with your audience. The ultimate goal being to increasing your email's open and engagement rates.
If you are still working through your email template's design and layout, check out our previous insight Your Email Design Guide. We list trends, tips, and tricks, to make your emails stand out against the rest.
How do I build my email subscriber list?
Let's start with the basics. The first step to having a successful email marketing strategy is to build and maintain a clean distribution list. We strongly advise against purchasing lists from other companies as they generally lack integrity, may be dated, and may have spam traps. There is no shortcut to this process, although certain methods (typically more costly) provide quicker results than others. Distribution lists are fluid and should constantly be updated. These updates can be automated to lessen the manual workload.
So how do I get started building an effective email marketing list? Here are a few options you can explore:
Website Inbound Leads
Your website is the focal point of your digital marketing strategy. It is crucial to its success that you enable the user to find the information they are looking for and make it easy for them to get in touch. Focus on the user journey and present them with easy to fill out forms to accomplish this. As forms are submitted, these are potential clients that have shown intent and an interest in purchasing your products or services. Make sure you follow up.
Manually build your list
Through desktop research you can identify key decision makers. Once identified, add them to your CRM tool so that you can keep track of where they are in the sales funnel. If you're using Salesforce, this is where you want to take advantage of the Lead object. Tools such as LinkedIn Sales Navigator (or similar) can provide you with an advance search filter to find relevant audiences in bulk and export these lists.
Events & Conferences
Industry networking events and conferences can be an effective way to meet your leads face to face, present your offering, and and exchange business cards. Make sure you send a personalized follow up before subscribing them to your newsletters.
Social Media
Social media is still a new frontier for many in the corporate world. Very few financial firms take full advantage of this direct communication to their contacts. Even less do it right. Through organic Social Media Marketing there is no cost to post content to your followers and showcase your brand. Your outreach can balloon to your follower's network with their engagement without any additional effort, which is why you want to start with employee advocacy. The opportunities are endless if done correctly.

Sponsoring content can be a quicker way to reach your target audience that can be identified with a broad set of criteria. This can include their job roles, geography, interests, and more. Leverage the higher lead conversion rates of the Lead Form Ads versus traditional forms. Creating hype by incentivizing, running competitions (laws on this vary by state), and complimentary thought leadership or your time, can help generate quicker results. We recommend focusing on the fundamentals first before rushing into paid ads, such as your company profile page, followers, and regular organic content strategy.
Google Ads & SEO
Selling sometimes comes down to timing. Individuals that actively searched for a specific keyword related to your offering show intent. Through Google Ads and Search Engine Optimization you position yourself to be found by those users. Map out the user flow for once they click your ad, A/B test, analyze the data, and constantly improve your results.

Did you know you could also retarget and tailor your message to individuals that visited a competitor website, relevant thought leadership, or publication?
Industry 3rd Party sites (Financial Services)
Certain companies allow you to advertise through their email newsletters, social media, website, traditional print, or webinars. These are typically more expensive than directly targeting individuals through Paid Search and Social directly but can reinforce your credibility if they are a reputable publications. Here's a few examples: Pensions&Investments, Barron's, Morningstar, FA Magazine, and more (a lot more).
A commonly overlooked CTA is simply linking your various channels and webpages in your email signature.
Not all options listed above may be relevant to you. These are some fundamental approaches you can take to start building your distribution list. For additional options and a personalized consultation tailored to your specific target audience, please get in touch.
Segmentation & Personalization
What is segmentation?
Segmentation in email marketing refers to the categorization of your subscribers into smaller groups. This allows you to tailor your distribution lists or content to each group of recipients.
Furthermore, this can help you analyze your data better by breaking it down into those groups and understanding where your efforts are driving results. It also allows the sales team to concentrate on segmented sub-group for a more manageable count and a more personalized approach.
Segmenting your audience
Say you have a master email list of 1,000 subscribers. These subscribers will inevitably have differences between them, which may include the product they're interest in. Segmenting your data means splitting your list into groups, fields, or categories, based on a set of criteria. What type of criteria? This can range from their geography, interests, demographics, preferences, engagement, past conversations, job seniority, status, and more.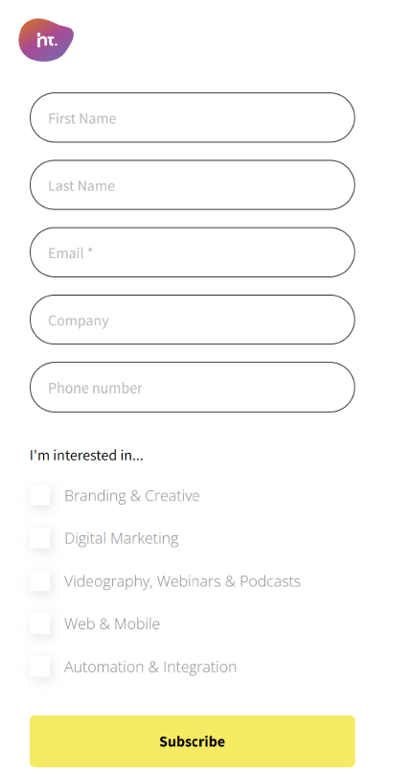 First, start by defining how you would group them. For example, you could split them by time zone to personalize the time of day they receive your communications. Alternatively, if you create a variety of content based of seniority, you may want to include an analyst versus executive tag.
Empower your audience by creating a Preference Center to gather more accurate data and understand what they're interested in seeing. See example to the right of our subscription center. We include Brand & Creative along with Automation & Integration as options. Once submitted, it automatically updates our CRM's segmentation, which in turns updates our dynamic distribution lists. The result is that if we're sending a communication tagged as Automation & Integration, the graphic designer on our list won't be receiving it. This makes our content relevant to them.
To close the loop, consider tagging your content and product/service to fully automate your distribution in the future. This would just be the starting point of what you can do with the power of segmentation.
According to Scout Help, segmented campaigns can contribute to 2x higher click-through rates (CTR). They can also contribute to lower unsubscribes, as you are sending relevant content. Make sure you take advantage of the benefits.
Why should I personalize my email campaigns?
With Email Marketing, you're emailing contacts in your database that you're building a profile on. This allows you to make the conversation more personal. 74% of marketers say that targeted messages and personalization of emails improve customer engagement rates.
Instead of sending the email from a generic email address, assign an owner to your contact in your CRM. This allows you to personalize the sender name, email address, and signature within the email body. This can be dynamic across multiple contact's emails. Next start the conversation with a basic salutation of their name if you have it and only send to them on their local time zone (receiving an email in the middle of the night will not help open and click rates). This starts humanizing the conversation through emails, distributes them in bulk, and saves you a plethora of time.
For further personalization tips and tricks to enhance your chances of engagement and a reply, please contact our team for a conversation.
How do I make my emails dynamic?
By putting the segmentation to use. Certain email marketing tools allow you to populate an email template with dynamic content. This is then driven by the recipient's segmentation. For example, if your contact is invested in one of your funds and they are tagged to that, the email body can be populated with fund-specific data.
Let's take a look at another example. If a contact has engaged with certain insight topics, your email template can then be populated or ordered with their preferred topics. This makes the content more relevant to them and increases engagement. There are no limits to this, as long as you setup the segmentation and retrieve the data.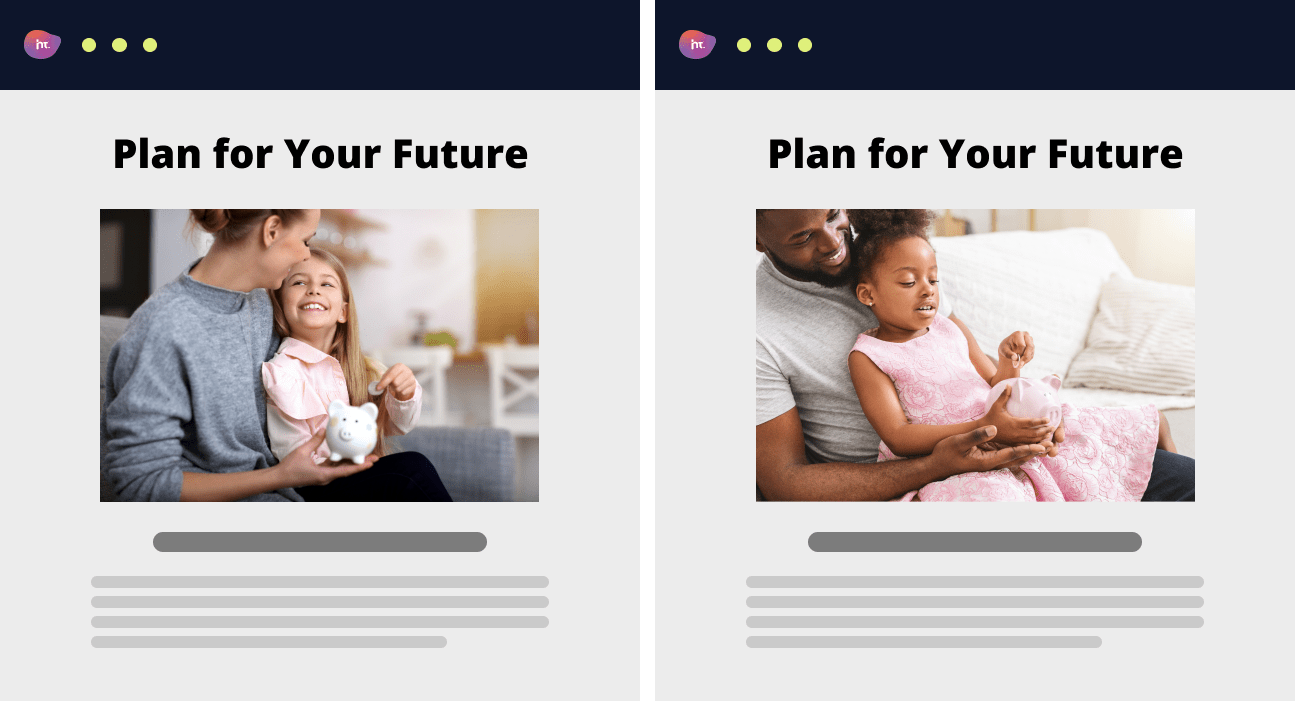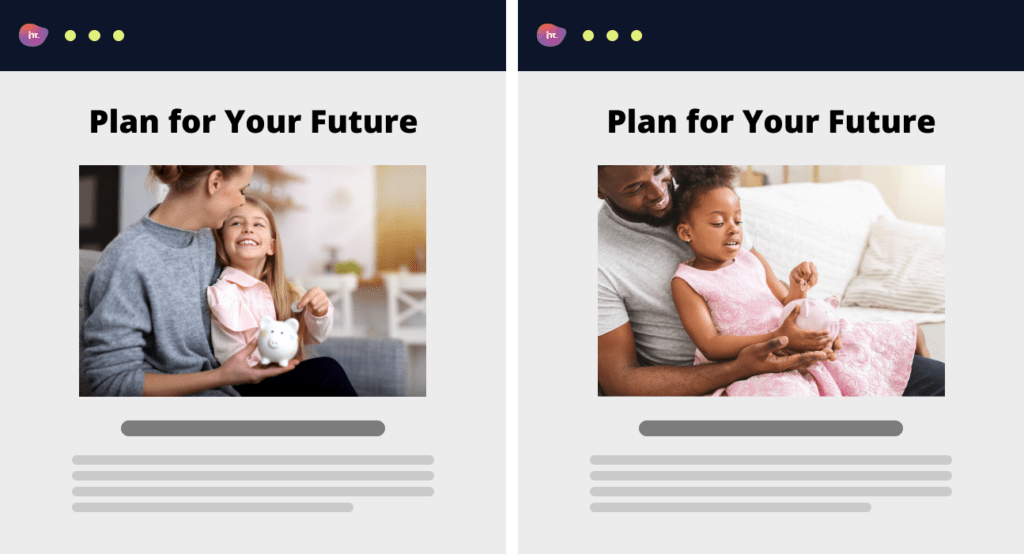 Can you spot the difference above? These two example emails templates are from the same financial planning campaign. Through gender segmentation we are able to distribute the relatable header image version to either male or female parents. Both emails depict the same message and serve the same purpose. However, they each use personalized imagery to relate to different demographics. This can create a stronger emotional reaction for each recipient.
Benefits of using an Email Marketing Tool
Let's take a step back and look at the reasons you should have an Email Marketing Tool at your disposal. The obvious benefit is the ability to blast personalized emails to numerous contacts seamlessly. There are other considerations when selecting one though. As your email marketing program becomes more advanced you can start automating the distribution of your emails through drip campaigns. This allows you to better nurture your prospects and clients (retention and cross-selling). The nurture campaigns can be setup with best practices in mind and, improved through analytics. Your email marketing tool won't forget to send an email. This removes the repetitive mundane tasks so the sales team can then focus on setting up meetings.
In addition, it's the analytics that make all the difference. It allows you to have a far more targeted conversation depending on their activity. Here are our top picks of Email Marketing Tools for B2B: StoneShot, Salesforce Pardot, Adobe Marketo, and Oracle Eloqua.
Email Authentication
There are certain universal requirements you will need to set up with Email Marketing Tools. Email authentication is one of those crucial to email deliverability. Mail servers nowadays have various methods to protect against security risks. These include flagging any suspicious phishing, spoofing, or spam looking emails. Avoid being flagged as one, by applying the following email authentication methods:
SPF is broadly required as a minimum. It protects your domain against spoofing or sending emails with a fake sender address that looks like it is from a trusted source.
DKIM adds a digital signature to outgoing messages making the recipient able to validate it.
DMARC lets domain owners tell recipients what to do with outgoing messages from your organization that do not pass SPF or DKIM.
We recommend considering SPF and DKIM at the very least. If you are using Pardot, follow the steps below to set this up.
Open the Pardot lightning app within Salesforce and select 'Pardot Settings'.
Select 'Domain Management' from the left menu.
From the top Email Sender Domains section click on Add Domain if it's not listed there.
Enter your domain (e.g., hometreedigital.com) and click Create.
This should appear with errors initially until the records are added to your domain's DNS. Click on the 'Expected DNS Entries' to find your SPF and DKIM details
Your IT team or Domain Manager with then need to add the following TXT record: v=spf1 include:aspmx.pardot.com ~all to your domain.
Followed by adding a TXT record and paste the Domainkey_Policy value.
And adding a TXT record and paste the DomainKey value
Navigate back to Pardot and select 'Check DNS Entries' and if added correctly, it should change to verified.
The Tracker Domain refers to the domain used for the links within your email body. The way that tracking works is that you click on a unique link that directs you to the tracking server. The tracking server then redirects you to your destination while tracking your engagement in the process. This is usually setup as a sub-domain of your parent i.e. "mail.hometreedigital.com" or "go.hometreedigital.com".
Best Distribution Practices
The best time to send marketing emails is from 9:00 AM to 12:00 PM and 12:00 PM to 3:00 PM according to HubSpot. Tuesday, Wednesday, and Thursday are the ideal days of the week that generally garner higher open rates. Side note: These are the general best practices and in most cases are what you should follow. That being said we have seen campaigns launched on a Friday perform exceptionally well on occasion. One consideration is that there will be less emails distributed by other companies at those times. We suggest testing the waters, at times, and taking certain calculated risks.
Note that these are best practices but there are other factors to consider, such as holidays and downtimes. It may also vary by industry. The above suggestions relate to corporate audiences. The recommendation will vary between when a a prestigious asset manager distributes versus a popular teen clothing brand. Try and understand your target audiences' habits.
This leads us to A/B testing. There's no better way to understand your own audience than trying different approaches and analyzing the data. Try a few different days of the week and times of day, this allows you to also maneuver around the highest distribution times. Try splitting one subject line across half of your distribution list and then another subject line to the other half. As you analyze the results, you will start identifying patterns and general trends.
For subject lines, the general rule of thumb is that shorter subject lines perform better. The recipient should still know what they are opening (a short subject line such as "Hi" will not suffice in this case). A strong one that caught my eye recently was from an unknown company using the subject line "Mastering Excel: Sum 6 Ways"—spam or not, this intrigued me enough to open the email and learn more (who wouldn't want to master excel?).
Lastly, remember to personalize. For a recap, navigate to this above section: Why should I personalize my email campaigns?
Tips you should know
Mobile devices account for 60% of email opens. Build them right, build them responsive and make sure they render correctly across all email clients and devices.
Use A/B Testing to optimize your strategy for your audience.
Personalization is key.
Try mixing it up between distributing HTML-rich newsletters and fully personalized Outlook-style emails templates to increase engagement and keep it interesting.
Don't forget to link your social media accounts.
Try and direct traffic to your website instead of a PDF. This provides you with additional analytics and allows the reader to continue their user journey to other content that interests them.
Trying to set a budget for your Email Marketing program? Read DesignRush's article Email Marketing Cost: A 2022 Guide for tips.
For more tips and tricks around Email Marketing Drop us a note and get in touch. We would love to hear how we did, ask any questions, and tell us about challenges you face.
About HomeTree Digital  
HomeTree Digital is a full-service digital marketing agency for financial services. We specialize in branding & creative, videography, web & mobile development, integrations, automations, email marketing, social media marketing, paid advertising, SEO, and analytics. If you are facing challenges in any of these areas, please reach out to us for assistance.

HomeTree is defined as a wise resourceful home that provides knowledge, instills inspiration, encourages creativity and protects. While harmoniously connecting its residents through its branches and roots to the outer world. This accurately describes the approach we take when it comes to our clients. We believe in excellent customer service and prioritizing you. Our mission is to provide you with the know-how to succeed in this rapidly evolving digital world.