Google Analytics 4 (GA4) is the latest version of Google Analytics, introduced by Google in October 2020. It is designed to provide a more comprehensive and unified approach to tracking and analyzing website and app data.
It's important to note that GA4 is a separate implementation from Universal Analytics. On July 1, 2023 GA4 will officially replace Universal Analytics and all legacy UA properties will stop processing data. While GA4 offers many benefits, transitioning requires careful planning and consideration. This is why we created this GA4 guide. Here is everything you need to know to switch to Google Analytics 4, set up your new account, and start accessing insights.
Key Improvements with Google Analytics 4
GA4 offers several key features and improvements compared to its predecessor, Universal Analytics. Some notable features of GA4 include:
Enhanced Cross-Device Tracking: GA4 utilizes advanced machine learning algorithms to track user interactions across multiple devices and platforms, providing a more accurate and complete view of the user journey.
Event-Based Tracking: GA4 focuses on event-based tracking, allowing you to capture and analyze specific user actions and interactions on your website or app. This flexibility enables a more granular understanding of user behavior.
Streamlined User Interface: GA4 features a redesigned user interface that offers a more intuitive and user-friendly experience. It provides simplified navigation and improved data visualization, making it easier to access and interpret your data.
Advanced Analysis Capabilities: GA4 introduces advanced analysis features, such as exploration reports, predictive metrics, and machine learning insights. These tools enable deeper data analysis and help uncover meaningful insights about user behavior and performance.
Privacy-Centric Approach: GA4 takes a privacy-centric approach by providing more control over data collection and giving users the ability to manage their data preferences. It aligns with evolving privacy regulations and best practices.
Integration with Google Ads and Google Marketing Platform: GA4 integrates seamlessly with other Google marketing tools, such as Google Ads and Google Marketing Platform, allowing for better cross-platform insights and optimization.
How to Move to Google Analytics 4
Google's Universal Analytics will stop collecting data on July 1, 2023, which means if you haven't set up GA4, time is running out!
Get started by logging into your account and look for this notification (at the top of your screen):

Click "Let's Go" and complete the steps.
If you are setting up your Google Analytics for the first time, creating a new account will automatically default it to Google Analytics 4.
Google Analytics 4 Setup
Open Your Google Analytics Account: Go to google.com/analytics or log in to your existing account.
Create a GA4 Property:
Click "Create Property"

Adjust Time Zone + Currency:
Add your business name and adjust time zone and currency.

Add Business Information:
Size, how you plan to use GA4, etc. Click "Create."

Create a Data Stream:
Add URL and Stream name. Create one for each website, iOS, and Android app.

Add GA4 Measurement ID To Your Website:
Click "Add new on-page tag" to view code, add this to your <head> tag. If you use a CMS (WordPress, GoDaddy, etc.) view set up instructions for a CMS-hosted website.

Activate Google Signals: In the property column click Data Settings > Data Collection, then turn on Google signals. Click apply.
Add Recommended Events: Click Reports > Engagement > Events, then click the + to add an event. This GA4 guide for recommended events covers the most common events.
Add Additional Events: Copy and edit current events or create new ones as needed for your business. This GA4 guide provides information on modifying and creating events.
Add Integrations: Connect GA4 to other platforms you use, including Google Search Console, Google Ads, Google Optimize, etc. Select Admin > Account Setting, then look for "Product Links."
Verify Set Up: Log into your GA4 account and open your new property to verify it is collecting data. It can take up to two days to begin gathering data.
Google Analytics 4 Checklist
As we approach the deadline, you may have noticed additional prompts from Google even though you may have already set up your new Google Analytics 4 property. Make sure you complete the checklist Google provides to be fully ready for the switchover.
Let's start with the legacy Universal Analytics property. When accessing the property, you may be prompted with the following screen to select the replacement GA4 property.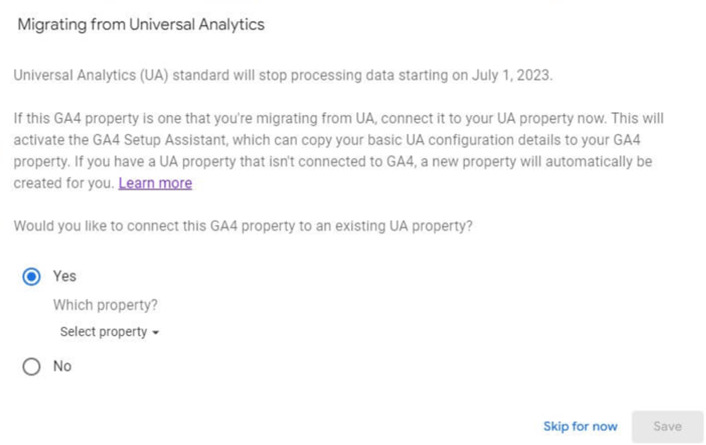 You can safely select your newly created GA4 property and hit Save. If you have already completed this step, you will be prompted with the following pop-up.
Click on "Go to Setup Assistant" or navigate there yourself by Admin > GA4 Setup Assistant.
We would like to draw your attention to the bottom of the section around automatically creating or migrating the configuration for you. Toggle it accordingly, depending on whether you are porting everything you need yourself or would like Google to handle it for you.

Tip:
Not all configurations can be ported so the safest approach would be to turn it off here and following the steps below.
Click "Go to your GA4 property" for the next steps.
The Setup Assistant guides you through all necessary steps, to ensure you aren't forgetting anything. We'll walk you through each step below. Make sure you "Mark as complete" as you progress.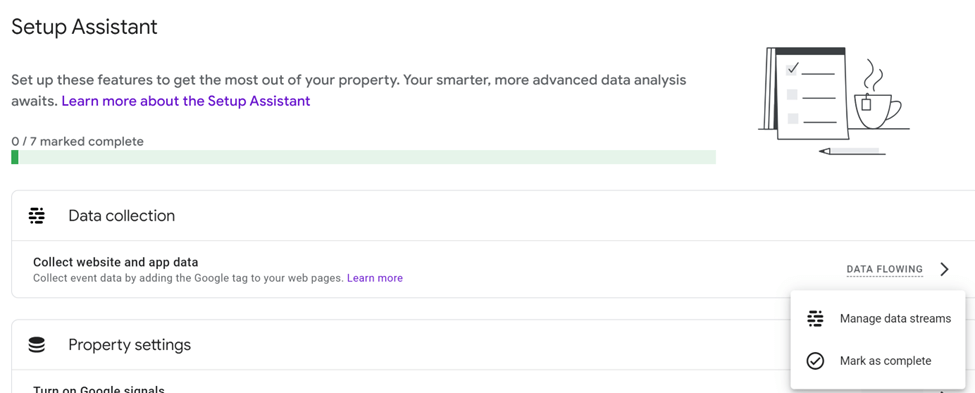 Data Streams
A data stream is associated with a specific property, such as a website, mobile application, or any other digital entity. Multiple data streams can be created within a single property, allowing you to collect and analyze data from different sources.
Google Signals
Google Signals is a feature that provides enhanced insights into user behavior across different devices and platforms. It leverages Google's signed-in user data, which includes information from users who have opted into personalized ads and have enabled Ads Personalization across multiple devices. By analyzing this aggregated and anonymized data, Google Signals can provide valuable cross-device insights and help marketers identify patterns and trends in user behavior.
Conversions
Conversions represent the desired actions or events a user takes on a website, app, or other digital property. These actions can include making a purchase, submitting a form, signing up for a newsletter, completing a registration, or any other predefined action that indicates a successful user interaction.
Once a conversion event is triggered GA4 collects relevant data such as referral source, device information, and other contextual data. This data is then processed and attributed to the respective conversion event allowing you to measure and analyze the effectiveness of your marketing efforts.
Audiences
Audiences refer to a specific segment or group of users that are created based on certain criteria or attributes, such as user behaviors, demographics, interests, or any relevant data captured by GA4. They allow you to categorize and target specific groups of users and tailor your marketing efforts for a more personalized experience.
Tip:
GA4 offers several ways to create an audience. One approach is utilizing predefined audiences, such as purchasers, returning users or engaged users. You can also create custom audiences by defining specific rules or conditions.
Link Google Ads Account
If you use Google Ads, connect the two platforms for access to more insights about ad performance, including improved attribution, deeper campaign analysis, audience insights, optimization opportunities, and cross-channel insights Follow the Link Google Ads and Analytics guide for steps on linking these entities.
Bid on GA4 Conversions
Bidding on GA4 conversions involves optimizing your advertising bids based on the performance and value of the conversions tracked in GA4. You can allocate your budget more effectively, maximize ROI, refine targeting and messaging, test different strategies, and align your bidding with your business goals.
Target Ads to GA4 audiences
By tailoring your ad campaigns to specific audiences identified within GA4 you can deliver more relevant ads that resonate with your target users. This approach can help increase engagement, improve conversion rates, and enhance the overall effective=ness of your advertising efforts.
Tip:
You can use GA4 audience lists for remarketing or create similar audience targeting based on the characteristics of your GA4 segments. This ensures your ads are displayed to the right users at the right time.
Google Analytics 4 Advanced User Checklist
GA4 offers powerful tools and capabilities, and by leveraging these advanced features, you can gain a deeper understanding of your audience, improve user experiences, and optimize your marketing strategies for better business outcomes. To gain further benefits, complete these steps as well.
Filter Out Internal Traffic: Located under Admin > Data Streams. How To: Exclude Your IP Address from Google Analytics 4 guide walks you through the process.
Exclude Referral Spam (fake traffic): Also, under Admin > Data Streams. GA4's Identify Unwanted Referrals guide here.
Adjust Data Retention for Event Data: The default is set to two months, adjust to longer as needed. Use the Retention Overview Report guide from GA4 to help adjust your reports.
Enable cross-domain measurement (Only for multiple properties): Set Up Cross-Dominion Measurement guide can help you through this process.
Where to Find the Most Commonly Used Data and Reports
Historically, Google Analytics organized data into predefined reports such as audience and conversions. With GA4, you can explore the data and insights most important to your business, from technical analysis to high-level reporting. However, you may notice many of the reports you're used to seeing are gone. Here's how to view standard GA data, like traffic, engagement, and conversions in GA4.
How to View Traffic In GA4
In GA4, traffic is referred to as "users."
Login to GA4
Reports Snapshot

Select Users

Adjust data in upper right corner by editing or adding comparisons.

Tip:
Look at the Summary Card "Where do your new users come from" for more information around which channels drive the most traffic.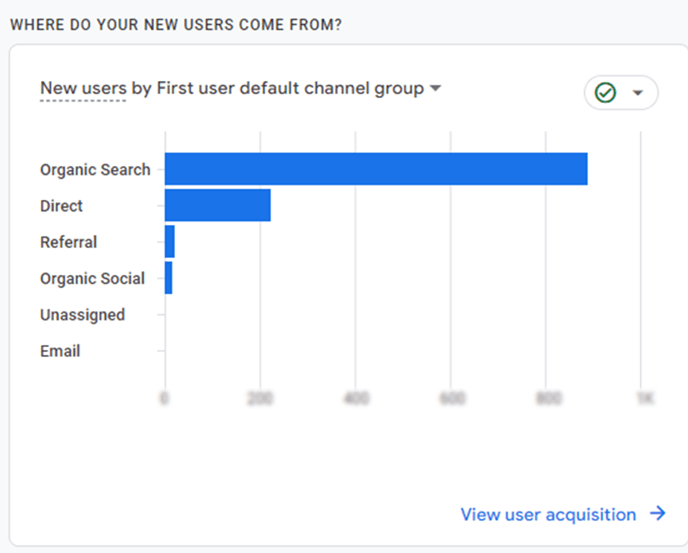 Try taking it a step further and filter by specific mediums or campaigns. For more information on accurately tagging your content and links, please read our UTM Parameters Best Practices insight.
How to View Engagement in GA4
Click the Reports Tab in the left side bar

Select Engagement
Select Overview
View average engagement time, engaged sessions per users, and average engagement per session

How to View Events in GA4
Select the Reports Tab
Click on Engagement
Select Events

View event count, event by users, ect.

Tip:
Click "Conversions: Event Name" (located under "Events" in the Engagement drop down.) to see which events convert the most.
Tips you should know
Enable Enhanced Measurement: Activate Enhanced Measurement to automatically track events like outbound link clicks, file downloads, site search, and scroll depth. Go to Admin > Data Streams > Stream Details > Enhanced Measurement.

Implement Custom Dimensions and Metrics: Utilize Custom Dimensions and Metrics to track additional data points specific to your business needs. This allows you to capture and analyze information beyond the default event parameters. Go to Admin > Custom Definitions > Create Custom Dimensions/Metrics.

Set up Goals & Conversions: In GA4 there is no distinction between goals and ecommerce. All conversions are measured via events. Conversion tracking allows you to measure success, identify conversion paths, optimize marketing campaigns, gain audience insights, and more. This allows you to make data-driven decisions relevant to your business goals. Go to Admin > Events > Create Event and set the configurations for your conversion. Once triggered you can view these conversions in the Events section of your reports.

Create Advanced Segmentation: Build Advanced Segments to segment your audience and analyze user behavior across specific dimensions. This allows you to gain insights into specific user groups and tailor your marketing strategies accordingly.

Go to Exploration

Create a Blank Exploration
Click the + to create a new segment
Add new condition to specify your criteria for this segment. You can create conditions that evaluate dimensions or events. Such as setting an age range or excluding a source.
Utilize Funnel Analysis: Leverage Funnel Analysis to understand and optimize user journeys on your website or app. Identify bottlenecks, drop-off points, and areas for improvement in the conversion process. Go to Exploration > Funnel exploration.

Implement User-ID Tracking: If your website or app requires user authentication, consider implementing User-ID Tracking to track user behavior across sessions and devices. This allows for a more accurate understanding of user engagement and conversion patterns. Go to Admin > Reporting Identity

Leverage Machine Learning Insights: Explore the machine learning-powered insights provided by GA4, such as churn probability, revenue prediction, and purchase probability. Utilize these insights to make data-driven decisions and optimize your marketing efforts. Go to Home > Insights.

Conclusion
Congratulations on completing your Google Analytics conversion. By enabling Google Analytics 4, you're taking a significant stride towards unlocking a world of valuable insights and making data-driven decisions for your business or website. GA4 brings a whole new level of features and tracking capabilities, giving you a comprehensive view of user behavior across various platforms and devices. With machine learning and predictive analytics at your disposal, you'll be able to uncover hidden patterns and trends, revolutionizing the way you optimize your marketing strategies. Plus, GA4's privacy-centric approach ensures compliance with regulations and fosters trust with your users. So, get ready to supercharge your analytics journey and embrace the power of Google Analytics 4 to achieve your goals in this data-driven era.
GA4 is a new tool for all digital marketers and the truth is we are all still learning and getting our head around it. Google has made the transition easier with a plethora of online resources. Subscribe to our newsletter from the sidebar to the right to stay informed with new findings that we'll be posting regularly.
If there's a specific area you would like us to cover or ask about, please contact us today.
About HomeTree Digital
HomeTree Digital is a full-service digital marketing agency for financial services. We specialize in branding & creative, videography, web & mobile development, integrations & automations, email marketing, organic & paid social media marketing, SEO, distribution, reporting & analytics, and tying it together through strategy. Reach out to us today for more information on how we can help you.
HomeTree is defined as a wise resourceful home that provides knowledge, instills inspiration, encourages creativity, and protects whilst harmoniously connecting its residents through its branches and roots to the outer world. This accurately describes the approach we take when it comes to our clients—we believe in excellent customer service and prioritizing you, whilst providing you with the know-how for you to succeed in this rapidly evolving digital world.