Website data analytics can help drive business decisions, which is why excluding your internal IP address and bot traffic in Google Analytics 4 can help preserve the integrity of your data and is crucial to the accuracy of the conclusions you draw.
On March 16, 2022, Google announced they will be permanently decommissioning Universal Analytics on July 1, 2023, for their next-generation measurement tool, Google Analytics 4 (GA4). The new tool is available today for the public to start setting up and using. For financial marketers, Google is building a sustainable platform for future data collection and reporting. Benefits of GA4 include a full-funnel view, event-based data models, universal integration with other google platforms, and more.
As we approach the July 2023 sunset date, HomeTree Digital will be provided additional insight into Google Analytics and other relevant platforms and tools used by digital marketers. Keep an eye out by following us on LinkedIn.
IP anonymization is automatically enabled in Google Analytics 4 as part of Google's effort to protect user data. IP address filters can be applied to your GA4 property to automatically remove specific traffic from your reports going forward. This removes all GA4 events from being recorded from the specific defined IP addresses. Read on to learn how to apply IP address filters so you can exclude your IP address from you Google Analytics 4 data.
What is an IP Address?
An Internet Protocol (IP) Address is an assigned number, unique to each computer, network, and router. That is the number that Google and many other tech companies use to track their customers habits, tendencies, and interests so they can provide a personalized user experience.
Finding your IP address is easy. Just Google it!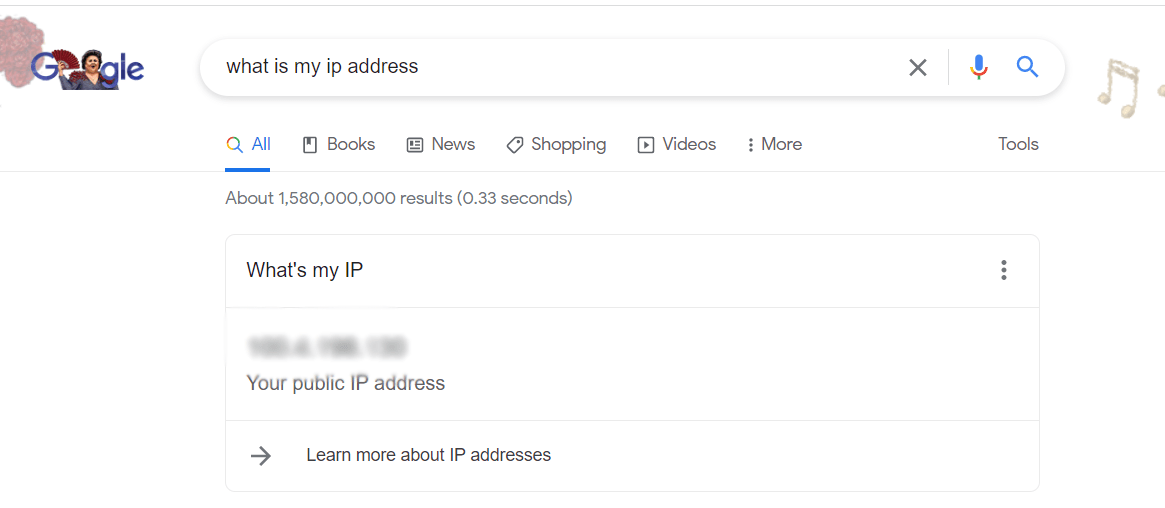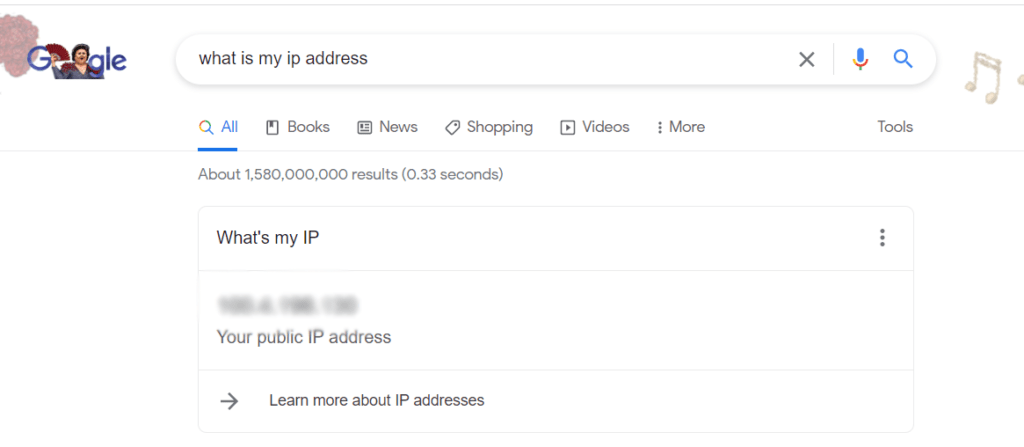 Note: If you are on a VPN this may not provide you with the most accurate result. Alternatively, you can use tools such as IP Chicken or WhatIsMyIPAddress for more accuracy.
Why should you exclude your IP Address in Google Analytics?
Google Analytics is a powerful tool, used in digital marketing, to gain knowledge and insights into your website traffic patterns and activity. The insights gathered can then help drive website enhancements and improvements. Since the data analyzed from Google Analytics can help drive critical traffic to the website, it's important the data is accurate. Data collected from Google Analytics could potentially be skewed if your employees or vendor agencies visit your site often.
If you want the most accurate data it's important to exclude your IP address from Google Analytics. Luckily, there is a way to filter your IP addresses so these visits will not affect the integrity of your data.
How to exclude your IP address in Google Analytics 4
Filtering your IP address out of your Google Analytics data is simple, just follow these easy steps!
Log into Google Analytics 4 and click the "Admin" button on the bottom left of your screen.


Click "Data Streams".


Select your website.


Configure Tag Settings.


Select "Define Internal Traffic".


Click "Create".


Give the rule a name. In this example, we are creating the rule name "Internal IP Addresses".

Input your IP address or range of IP addresses. Add multiple single IP addresses by using the "Add condition" button.


Return to the main page and click "Data Filters" on the admin page.

Click on "Create Filter" and select "Internal Traffic".
In this example, we are using the Data Filter Name "Internal Traffic Filter" and "Exclude" data.
The parameter value should match the internal traffic_type value set in step # 7.

You will want to set your filter to "Testing" to begin with so that you can validate it's correctly setup.
Test your filter (directions below).
Once your filter has been tested go to "Data Filters" and change the state of your filter from "Testing" to "Active" and save.
Testing your IP Address filter
Google recommends testing your filters every time you create a new one. Google Analytics does not collect data retroactively, thus any mistakes will lose you data permanently.
To test the IP address filter, click on "Reports" button.
Click "Real Time" report.


Add comparison.


Select "Exclude".

Click "Text data filter name".


From this window you can view real time activity from your website. If your filter has been set up, you can go to your website and see your activity pop up on the test user's side.

Once your filter has been tested go to "Data Filters" and change the state of your filter from "Testing" to "Active" and save.
Once enabled your Google Analytics 4 property will exclude all traffic listed in your filter.
Tips you should know
Your IP Address will change if you change locations and work from coffee shops, co-working facilities, etc. This will require you to setup new filters for analytics accuracy. Unless you connect through a VPN.
Are you still using Universal Analytics 3 and trying to filter your IP Address? Find out how here.
Universal Analytics will be sunset July 1st, 2023. Make sure to save all your data and transition to Google Analytics 4 sooner rather than later. Otherwise, you risk losing historical data for year-over-year comparative reporting, missing key insights from event-based data gathering, and working with an incomplete picture of the customer funnel.
Google has announced that past a 6-month trailing period after July 1, 2023, all data from Universal Analytics will be lost.
About HomeTree Digital
HomeTree Digital is a full-service digital marketing agency for financial services. We specialize in branding & creative, videography, web & mobile development, integrations, automations, email marketing, social media marketing, paid advertising, SEO, and analytics. If you are facing challenges in any of these areas, please reach out to us for assistance.

HomeTree is defined as a wise resourceful home that provides knowledge, instills inspiration, encourages creativity and protects. While harmoniously connecting its residents through its branches and roots to the outer world. This accurately describes the approach we take when it comes to our clients. We believe in excellent customer service and prioritizing you. Our mission is to provide you with the know-how to succeed in this rapidly evolving digital world.